Sunnysocks Nursery School

Sunny Socks is located alongside a farm on the edge of the picturesque village of Brixworth in North Northamptonshire
For children, being outside is one of the most effective ways of enhancing their development. Equally important is allowing children to experience an ever changing and diverse environment.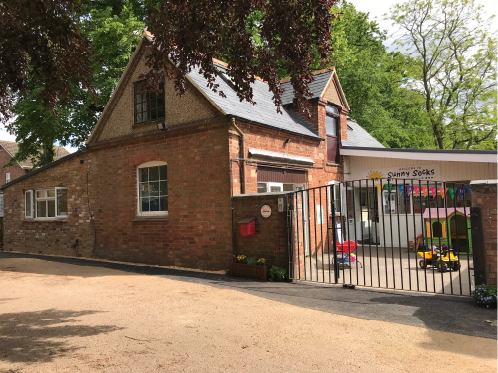 At Sunny Socks we combine the benefits of a unique outdoor experience with the provision of our homely yet diverse, well equipped indoor setting.
We are extremely fortunate to have large nursery garden mainly laid to grass with a bark area, tyres and logs for climbing on, story seating in the shade under a large tree, a mud kitchen, a bug hotel and many other toys, activities and games. In addition to this we make the most of our direct access to 600 acres of farmland, where are forest school is located amongst the trees.
Children's experiences on the farm:
The children's experiences include collecting the hens eggs, picking vegetables from our allotment using them to cook with, visiting the cows, learning about what they eat and watching Farmer Mark at work, helping to feed the lambs and watching chicks hatch.
All age groups go on nature walks around the fields, sometimes taking a picnic. We provide waterproof puddle suits to ensure all children can make the most of our wonderful, unique location whatever the weather.
We pride ourselves on having a team of dedicated, well qualified staff to care for your children in our homely and stimulating environment. Our staff follow the interests of each individual child and use this to ensure that a range of interesting and educational experiences are on offer to all.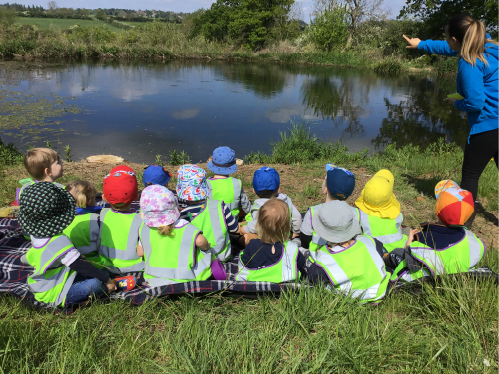 The best way to tell whether you like a nursery is to come along and see it yourself.
Read More

Inside one of our bright, friendly rooms.
Read More

"RATED GOOD" Click on the link below to read Ofsted's 2019 Report.
Read More